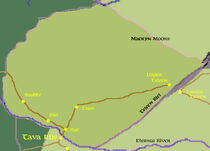 Temok is one of the fourteen provinces that the country of Koridan has been divided up into for administrative purposes by its government. Temok is a central province, occupying the area north of the Eternal River and west of the Telfen Rift. It is bordered on the west by Zarus Province, the north by Mursa Province, and the east by Katan Province. A major landmark, besides the Rift, is the southern half of the Maeryn Moors. Temok's main economic focus is the farming industry south of the Moors.
The provincial captial of Riel is where the governor resides.
Community content is available under
CC-BY-SA
unless otherwise noted.