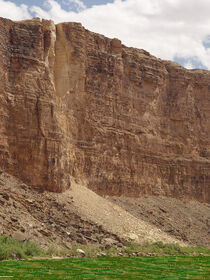 The Telfen Rift is a natural boundary separating Temok province to the west and Katan province to the east. It is a cliff several dozen meters high, and 128.1 miles long. Running from the Arrok Mountains southwest to the Eternal River gorge, it effectively forces almost all trade and travel in northern Koridan through the towns of Upper and Lower Telfen. The road between the two actually scales the face of the Rift via a large wooden staircase and elevator-type structure.
Community content is available under
CC-BY-SA
unless otherwise noted.