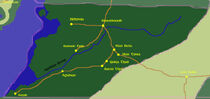 Rohn is one of the fourteen provinces that the country of Koridan has been divided up into for administrative purposes by its government. Rohn is a southwestern province, basically occupying the area around the Aquinas River. It is bordered on the west by the Apenic Sea, the north by Gissen Province, the east by Rath Koridan Province, and the south by the country of Aldemir. Its location on the Apenic Sea would lead one to think that it should enjoy some trade, but the village of Aleph is its only port. Rohn's main economic focuses are the forestry and fishing industries.
The provincial captial of Aquinas is where the governor resides.
Community content is available under
CC-BY-SA
unless otherwise noted.