a Roc destroys a ship
Geographical Information
Climate

hot and humid
mild temperate

Terrain

alpine/high altitude/mountainous
Rough/rugged/rocky hills

Vegetation

coniferous forest/taiga
deciduous/mixed forest

Physical Information
Type

giant avian predator

Average Wingspan
Skin type

feathers/plummage

Colors

white or golden

Offspring

1-3 young

Abilities Information
Special Abilities

flight

Attack Type
Domestication

with great difficulty

Used as Mount

with great difficulty

Societal Information
Family Grouping

solitary
A roc is an enormous legendary bird of prey, often white or golden, reputed to have been able to carry off and eat pogs. A roc generally prefers warm mountainous terrain. Rocs are usually solitary, but sometimes found in mated pairs, having 1-3 young at a time.
Characteristics and habits
Edit
Rocs make their nests in high, temperate mountains. A solitary one is likely to be patrolling its environment or hunting for itself or a baby, and typically ignores non-threatening creatures. It most commonly attacks by diving from a great height, but if it cannot do so, slashes at an opponent's head with its claws and beak.
Rocs, like many similar creatures, are prized for their value as aerial steeds. To tame one, the roc must have a friendly attitude to the rider/tamer. Riding one requires an exotic saddle, and six weeks of training. Sometimes Rocs are raised to be mounts from birth, but Roc parents defend their nests to the death.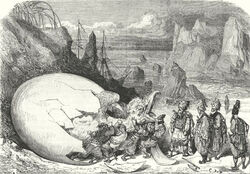 Community content is available under
CC-BY-SA
unless otherwise noted.