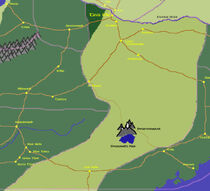 Rath Koridan is one of the fourteen provinces that the country of Koridan has been divided up into for administrative purposes by its government. Rath Koridan is one of Koridan's largest provinces in terms of area. The south-central province, it runs from the border of Aldemir on the south up to the Eternal River in the north. Across the river are Temok and Katan Provinces. The forested Torelar, Gissen and Rohn Provinces lie to the west, while Rala and Chacyr Provinces lie to the east. Rath Koridan's main economic focus is the farming industry.
The provincial captial of Amarna is where the governor resides, even though Tava Rhe is the capital of the entire country.
Community content is available under
CC-BY-SA
unless otherwise noted.