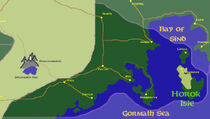 Rala is one of the fourteen provinces that the country of Koridan has been divided up into for administrative purposes by its government. Rala is a southeastern province, bordered on the west by Rath Koridan Province, the north and east by Chacyr Province, and the south by the country of Aldemir. Its location on the Bay of Sind and ports of Dorrek, Merin, Stin and Brightwater give it excellent access to the Gormath Sea and the trade routes into the Sural Sea. Rala's main economic focuses are the forestry, fishing and trade industries.
The provincial captial of Merin is where the governor resides.
Community content is available under
CC-BY-SA
unless otherwise noted.