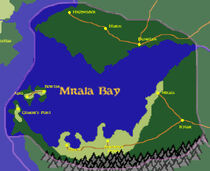 Mrala is one of the fourteen provinces that the country of Koridan has been divided up into for administrative purposes by its government. Mrala is an western province, occupying the territory south of Zarus province, and north of Gissen Province. The Eternal River ends its long journey into Mrala Bay in this province. East are the grasslands of Temok and Rath Koridan provinces. Travel westward heads into the Apenic Sea. Due to the fact that Mrala Bay is located here, the main economic focus is trade, with fishing and lumber being secondary.
The provincial captial of Mrala is where the governor resides.
Community content is available under
CC-BY-SA
unless otherwise noted.