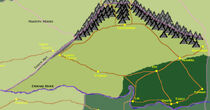 Katan is one of the fourteen provinces that the country of Koridan has been divided up into for administrative purposes by its government. Katan is an eastern province, occupying the territory north of the Eternal River, but south of the Arrok Mountains. West are the grasslands of Temok and Mursa provinces. Travel eastward crosses the border into the Jenari Waste. Due to the fact that Katan is half forest and half plains, its main economic focuses are lumber and farming.
The provincial captial of Lir is where the governor resides.
Community content is available under
CC-BY-SA
unless otherwise noted.