Hammerheim
Political Information
Region
Type of Government

Federal Monarchy

Ruler

High King Gundar Hammerfist

Government Stability

Very Stable

Societal Information
Capital
Population

600,000

Demographics
Official Language
Currency
Primary Religions
Historical Information
Year of Founding
Policy Information
Allies

None

Enemies
Hammerheim is a federation of five dwarven holds, united under High King Gundar Hammerfist, the ruler of Hammerfell. The five holds largely rules themselves, but share tax- and foreign-policy. All five holds are connected through an extensive and well-guarded underground tunneling system, enabling fast reinforcement of threatened holds.
Hammerheim is bordered on the west by Sindal, on the east by Dark-Cavern, Imbarin and Neleran, and on the south by Black Rock and Bun Tayesh.
The holds of Hammerheim largely governs themselves, but are nominally ruled by the High King of Hammerfell, Gundar Hammerfist. The kings of the holds or their representatives meet with the High King in Hammerfell every summer to make decisions that influence all the holds, such as taxes or punitive expeditions. In times of crisis or war, the kings submit to the High King.
The dwarves are divided into clans, who specializes in some trade or skill, be it gemcutting, blacksmithing or mining. These clans are spread across all five holds, with a few living outside the holds and visiting only to pay their taxes and sell their goods.
Major Geographical Features
[
edit
|
edit source
]
Cloudhigh Mountains:
Raven Peaks:
Wyrm Run: The river known as the Wyrm Run originates in the deep Raven Peaks, and runs through the Raven Peaks, down through Ravenswood and into the ocean. It is used as a route for trading between Hammerheim and the elven kingdom of Neleran.
Deep-Cavern (Metropolis, 91,000):
Frostholm (Metropolis, 83,000):
Hammerfell (Metropolis, 112,000):
Hammerkeep (Metropolis, 103,000):
Ormgard (Metropolis, 96,000):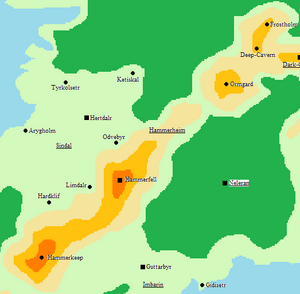 Community content is available under
CC-BY-SA
unless otherwise noted.