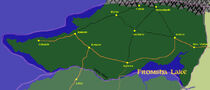 Drakon is one of the fourteen provinces that the country of Koridan has been divided up into for administrative purposes by its government. Drakon is a northeastern province, occupying the territory north of the Zarus River and Fromsha Lake, and east of the Apenic Sea. The eastern edge borders the grassland of Mursa province. Several settlements in the northern area were savagely sacked and subsequently occupied by goblins under the command of Seraada Margolin, and are avoided. North of those areas are the Sibianur Mountains which create a natural border with the country of Danara. Due to the fact that Drakon is almost entirely forested, its main economic focus is the lumber industry.
The former provincial captial of Tyrak was overthrown by Seraada and his goblin armies. When that happened, Rasmus was named the new provincial capital.
Community content is available under
CC-BY-SA
unless otherwise noted.